Choosing a Sandblaster - Choose Carefully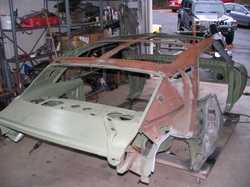 The "remains" of our '69 Firebird
One of the many reasons that we started Classic Car Blasting was the lack of focus on the classic car community in New England. Several years ago we "lost" our '69 Firebird shell to a local sandblaster that totally warped every body panel on the entire shell. Initially, the price was right, but in the end, our entire shell had to be rebuilt (picture at left). Beware of blasters that focus on sandblasting buildings, snow plows, dump trucks and other heavy equipment. Damage (blow through), warped panels
,
and left behind residue (soda) are the biggest concerns car restorers should have when choosing a media blaster.
There is No "MAGIC" When Media Blasting a Car Body
There is no magic to blasting a car body without causing damage and still accomplishing a clean "white metal" surface. Successful car media blasting comes down to five basic principles:
1. Selecting the Correct Type of Media
There are many
media types
available. Some are good for blasting body panels, but most are not. Each of these media types have a different hardness and will react with metal differently including: causing heat and actually embedding in the metal. For this reason we use crushed glass. After much research and many trials, prefer the excellent results that crushed glass provides (not to be confused with glass bead, which is much larger and round). Our medium crushed glass is the approximate grain size of table salt.
2. Blasting PSI
Most sandblasters will blast with a large tow behind compressor and blast at 150+ PSI. This will strip metal very fast. However, this creates heat and is very aggressive on the surface of the metal and depending on the media (like Black Beauty) will actually remove metal. We blast our crushed glass at a very low 40-50 PSI depending upon the surface we are blasting.
3. Blasting Tip Size
Most sandblasters will bast with a #6 thru #8 tip. We blast with a 3/16 (#3) or 1/4" (#4) tip. The smaller tip means more media control and less media hitting the metal at once. Which translates to less pressure (and media) on the metal.
4. Time
Blasting a car body is not about how quickly it can be done. Using a #8 tip, blasting black beauty at 150 PSI, will clean an entire car body very quickly. We have even heard competitive estimates as low as 3 hours to blast a whole car minus bottom (wow!)...But believe me, you will cry at the results and all of the body damage!
Using proper technique,
it typically takes us anywhere from 6 hours to do a smaller shell to up to 15 hours for a complete larger car (outside, inside, bottom and doors).
5. Blaster Technique / Experience
We don't have kids in the back blasting away at your ride. Virginia is our only booth blaster and she has the experience and patience to do it right.
The moral of the story: blasting a car body correctly takes the right equipment, time (patience) and experience to do it right...Isn't this always the case? In reality, we have many "sandblasters" that actually refer us their car-related customer inquiries. Most sandblasters do not have the equipment, patience or desire to correctly blast car body panels. We do, and this is what makes us different!
---